WE GATHERED AT WAKEROBIN HOLLOW
We Gathered at Wakerobin Hollow is a four hour, 39 song, speculative fiction song cycle, released in nine chapters over 18 months. Combining character-driven songwriting with drone and noise, the project traces the lives of a family and friends over a 40 year period in a series of connected vignettes. The broad narrative, told chronologically from multiple points-of-view, is set in motion by a catastrophic fire at an oil refinery in Odena, Alabama. We watch children become adults, spread out to Asheville, New York, and Bennington, get jobs, fall in and out of love, and families grow. But climate change, coastal flooding, and an increasingly authoritarian government transform their day-to-day lives, eventually leading them all to Odena and Wakerobin Hollow.
The songs, arranged for piano, voice, synthesizers, noise and field-recording, explore female friendship, familial relationships, government militarization, and the ways climate change is, and will, affect our lives.
We Gathered at Wakerobin Hollow was released in nine chapters, on cassette and digital, with a new chapter every two months from August 2018-December 2019.
The Characters:
Emma: runs the farm at Wakerobin Hollow in Odena
Jen: her younger sister, also stays in Odena
Julia: a friend, attends college in Asheville, ends up in Brooklyn
Marsha: a friend, college in Asheville, also moves to Brooklyn, then back to Odena
Alan: Emma and Jen's father, worked (and was injured) at the refinery
Jon: Emma's husband
Christopher: Emma and Jon's son, born in Year 33
The Settings:
Odena and Jacksontown Alabama
Asheville North Carolina
Brooklyn New York
Bennington Vermont
CHAPTER 01: IT ALL STARTS IN ODENA
Year 00-18
We meet Emma, her father Alan, her sister Jen, and their friends Julia, Marsha, and Jon. A catastrophic fire at an oil refinery in Odena, Alabama transforms the lives of our characters, each song examining different moments in their youth.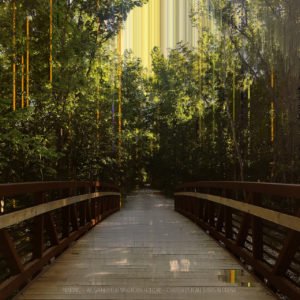 CHAPTER 02: A FEW YEARS IN ASHEVILLE
Year 18-30
Marsha and Julia at college in Asheville and after. Alan, having left his family in Odena, wanders the southeast a decade after the fire, struggling with trauma, homelessness, and alcohol.
CHAPTER 03: JULIA COMING AND GOING
Year 31-32
Julia and Marsha are now living in New York, stretching even farther from Odena and further into an adulthood of new lovers, new homes, and a deepening friendship. But ties to the past remain strong and events back home compel Julia to visit, where she questions her path in the landscape of her youth.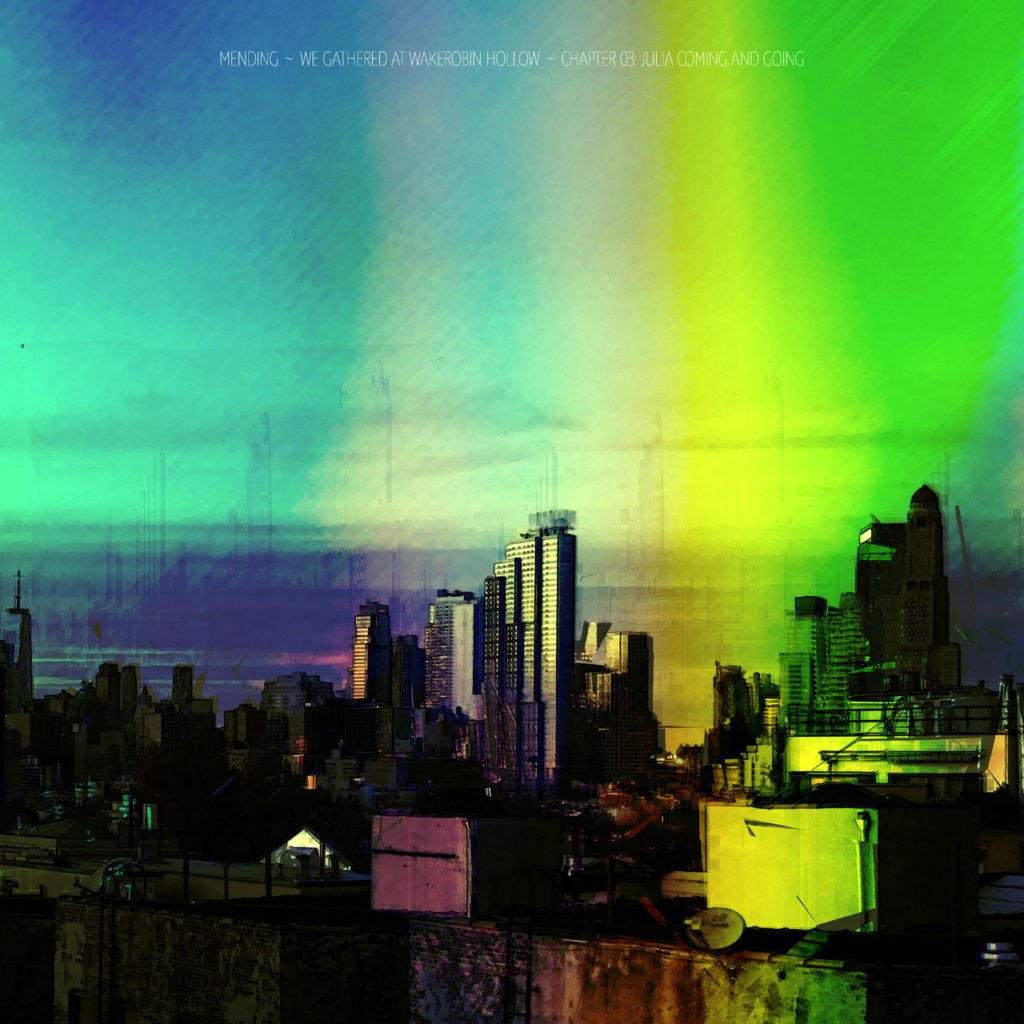 CHAPTER 04: HOMEWARD
Year 31-32
Marsha leaves New York and returns to Odena to provide caregiving for her aging parents. While trying to find her footing back home, she revisits old haunts and rekindles old friendships.
CHAPTER 05: SISTERS
Year 33
Two warm quiet moments at the midpoint of our story. A glimpse into Emma and Jon's life on the farm at Wakerobin Hollow, and a loving connection between Emma and Jen as they discuss their pasts and their futures.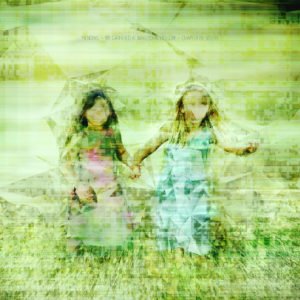 CHAPTER 06: REBUILDING TRANSMISSIONS
Year 33-34
We return to Emma and Jen's father Alan, who has been estranged and drifting for nearly two decades, having left Odena and his family in the aftermath of the refinery fire. After years of battling alcoholism, PTSD, survivor guilt, and homeless, he gets a new start, and a chance to begin reconnecting with his daughters and his new grandson.

CHAPTER 07: JULIA ALONE
Year 34-37
We return to Julia in Brooklyn, as she corresponds, via phone, letter and email, with her friends back home. At first the missives reveal nostalgia and loneliness, but when a massive weather event floods Red Hook and then the new Gowanus desalination plant fails threatening New York's food supply, Julia begins to make plans to return to Odena.
CHAPTER 08: EVERYBODY'S COMING TO THE FARM
Year 37-38
Floodwaters have claimed the eastern seaboard and pockets of violent conflict erupt as climate refugees clash with an increasingly militarized domestic peacekeeping force, the USDCA. Through this, protector, planner, thoughtful Emma strives for stability by creating an intentional community on her farm at Wakerobin Hollow. She invites friends and family there to seek respite and share resources and build a small haven in an increasingly chaotic world.
CHAPTER 09: CHRISTOPHER AT THE END
Year 39-40
Safe among family and friends in his home, six-year-old Christopher tries to make sense of his rapidly changing world. But unmitigated climate change with increasingly volatile weather, and a militarized authoritarian government threaten the sanctity of Wakerobin Hollow. This chapter, told entirely through the eyes of this young child, filtered and abstracted by his naivete, joy, and fear, brings us to the conclusion of Book 001.